missing the sun(tagaytay,phils)

I was set to catch the sunset and the sunrise in Tagaytay during the Focus Group Reflection (FGR) I organized for the research I'm doing. But the busy schedule didn't permit for that to happen.
What was left of the sunset when I remembered to go out of the session hall and sneak out from the group I was observing was this.
I was too tired to get up at 530AM the next day to catch the sunrise. I instead decided to catch more sleep, I needed the sleep more.
some of my big time FGR participants!
Yes that's Bishop Bacani at the left side of the 1st pic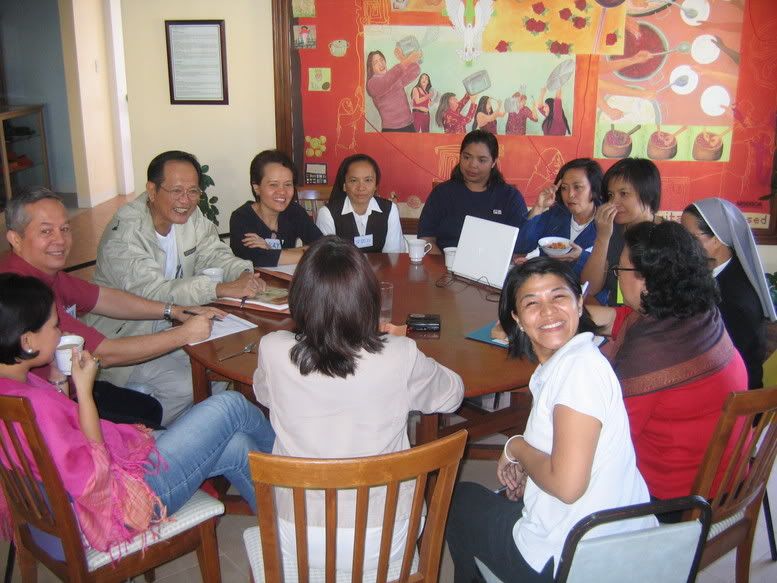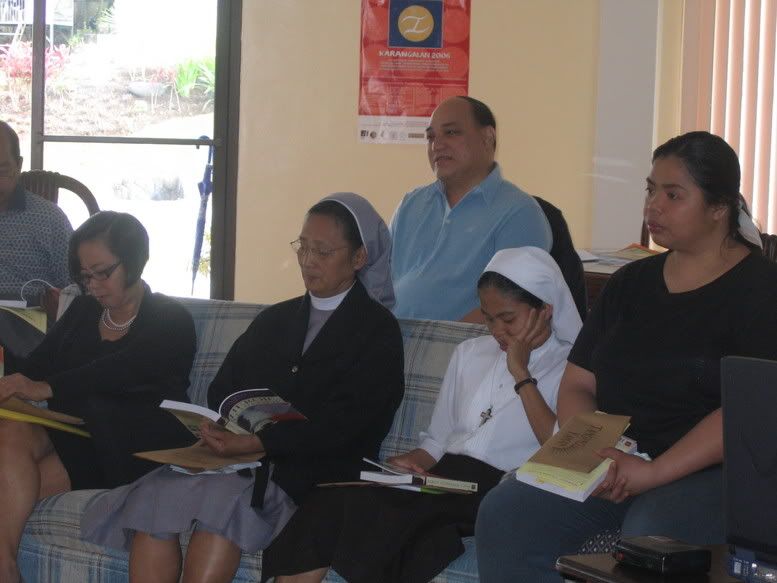 after a week of average 3-4 hours sleep/day (preparing for the FGD), an hour before event was over, I'm all smiles. (siyempre with my dear kuya cum human "stresstabs"-bro. gil, sj)
the view captured here doesn't give justice to the place. This was our best attempt in trying to get a pic with a view.
The Luzon FGR's done, however there still is so much work to do. Data Analysis proves to be a tougher task. And I have to organize another one for Mindanao this coming March. For now I'd like to thank my dear friends who've helped me organize the event and helped me keep my sanity.
I thank TQ and the rest of the Quijano family for allowing me to declare TQ's room as my office every now and then; To my Tagaytay travelmates – Ate Trina, Ate May8, Ate Norie, Ate Jerlie and Mommy TQ (again) – for accompanying me in the ocular inspection of the venue; To the people of the SLB office - Ate Marj, Ryan, Bro. Javie(thanks for giving me one of my best laughs of the year so far), Bro.Jonj,&Bro.Weyms – for the numerous phone and internet use, sa uulitin! To my dependable Kuya Gil, mwah!– mag-regency ka na! I have to get married in less less than 8 years, so you have to be a priest by then (Kailangan din kasi yung di pa naman uugod-ugod si Fr. Mario-hahaha); JVP Office – for the phone use also (I'm such a homeless/officeless person); JVP Babyboy, Noynoy – for helping me with venue details; Ate Pia for the extra recorder; Ms. Liza – my main documentor (kahit ang liit nung sweldo); Chuck for the Videocam; and to all Pinoys who try to live their lives with Integrity and Love for the Country – Thank you for reminding me that despite my difficulties both at work and in my personal life, I am where I am supposed to be!
Imperfect, but all the same-beautiful.